Welcome to Fish Drum: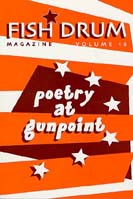 Fish Drum #16:
ZEN CAPITALIST PRODUCTION

We actually own the phrase over at Fish Drum Inc.: Poetry at Gunpoint. I have this image of someone with a pistol in one hand, an open book in the other, saying, "No one will get hurt. I am now going to read from my unabridged and unpublished book of 300 sonnets."

Sometimes we have to do it this way. The other choice is to pick up a Fish Drum and read it whenever you want. Very simple thing to do. Brad Miskell, art director and myself, your editrix, Suzi Winson, have pasted it together very professionally. It's got a preview of Tom Z's Brain Dead Dog book, coming out one day from Fish Drum Inc. Also a pile o' poems by Geoff Bouvier, Joanne Young, Sam Keen, Tom Ireland, Michael Rothenberg, Steve Sanfield, Ellen Zweig, Nadja Millner-Larsen and lots more. An expectant, juicy 128 pages, to be read in a poetry emergency. I know you have them.



Suzi Winson, Editor

ISBN: 1-929495-04-8

To get Fish Drum directly from us:



Click here!